Fucking GOP Jamboree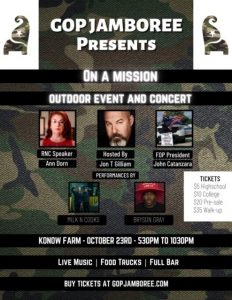 This is just and a a little thing on the GOP Jamboree #2 event they got going on this Friday in Homer Glenn. A mini dossier if you will on the speakers of this event, the speakers who dropped out, and the former speakers they tried to get back in.
You will find the most notorious B grade grifters of conservative thought in this fucking Jamboree, because big heads won't go near it – just disgraced Has-Beens and professional liars, who spread propaganda to their followers without facts or recourse. They deserve to be publicly shunned for what they are doing, not just for mobilizing hatred and militancy against BLM and antifascists, but they are also a deeply and inherently anti-democratic movement, as they have been laying the groundwork for Trump to claim  mass voter fraud and steal the election.
Interestingly, they try Real hard with the diversity card, in order to hide their views which are clearly racist. They tried to get as many people of color speaking on this event as possible, even though they know the demographics who go to these repub fests in the burbs are very fucking yt. More on this later.
Speakers
Anne dorn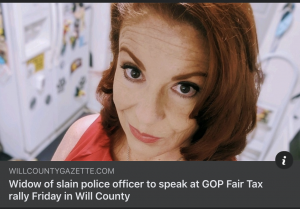 Sergeant Anne Dorn of St. Louis Police is the widow of Captain David Dorne of St. Louis Police, who died during a break in of a business in the summer. She was a featured guest at the RNC, where Trump praised David Dorn a "hero", despite David  being a strong critic of Trumpist brutal approach to law enforcement, particularly when Trump infamously proclaimed to a convention of police "Don't be too nice to criminals" and said "don't worry too much about protecting their heads when placing them in the backseat of a car. You can take the hand away".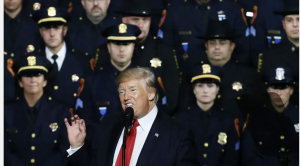 This summer, she has been organizing  "peace marches" where they hyper-spectacularize gun violence to justify railing against the "BLM Marxist propaganda being taught in schools" (her words at a recent BTB rally). They brought a giant Blue Lives Matter flag to their march.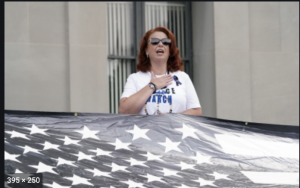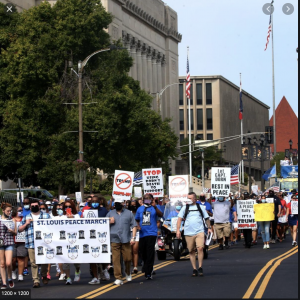 "The silent majority rising up against the violence. Against the terrorists, the anarchists, trying to take over the community."

 The Back the Blue crowd in Chicago are also exploiting the death of her husband to generalized itthis to lay blame at the feet of the "radical left" and the "Marxist BLM" She does this despite her husbands and their two daughters strong opposition to Trumps divisive race politics.  She is obviously going through in and in a way, I feel bad for her that these back the blue fucks are exploiting her story for their own agenda, but she herself is part of this process.
Marching alongside Ann Dorn and people wearing "bridge the blue" shirts are David Dorn's daughters in counter-protest. Ann speaks at the end of the clip. @ksdknews pic.twitter.com/1Fi0nPfLpV

— Jasmine Payoute (@jpayoute) August 29, 2020
Anne Dorn's daughters actually counter-protested their own mother's  Blue Lives Peace March, asking the questions "Who is this peace march for?", pointing out the 'lack of diversity' in Ann's march.
Bryson Gray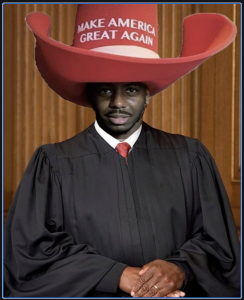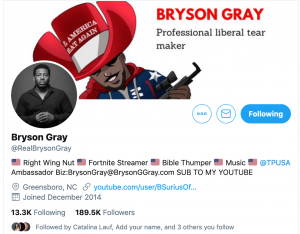 The headliner of this event is Bryson Gray, a "MAGA rapper"….How can anyone take this big ol MAGA bucket hat fool seriously?All you need to know about him is that he is an unbelievably and un-apologetic advocate of Trump brand fascism. He is big on the idea that his mere existence as a Black MAGA is evidence that the ideas he touts and echoes cannot possibly be racist. Au contrare, it just makes you look like the biggest Uncle Tom on the planet. His most recent release, "Hate Speech", is obviously supposed to trigger woke folk, and solicit a response from lefties like us. So, fuck it, we'll give it to him.
Here's a lil review of his fucking 'song' and the video, where he dances plays an AR like a guitar. Its a full on "Masks Off" cringe fest for his bigoted fans. It also features Enrique Torres, the prez of the Proud Boys, another perfect example of black folk within white supremacist movements.
The video starts off with Bryson saying "Someone gotta do something" while you see the first camera shots of his AR rifle, which can clearly be interpreted as a call-to-arms for the Kyles of the world, who he explicitly has supported since the very day after this child soldier murdered 2 protesters.


Some gems in his lyrics:
"Bought a MAGA chain and bought an AR for the chain snatchers"
Then he hurls ridiculus transphobic lies and attacks. I don't want to get into the deep end of it, but of a whole verse, this is the first line.
"There ain't no thing as trans"
He also delivers a big fuck you to mental health. Imagine talking shit on people with depression.
"These days's its popular to be depressed

Pity parties disguised as mental health"
So they go to a therapist instead of
handling problems themselves
Here we go with an original but extremely gross and fatphobic attack on health care.
"Universal health care, theres a reason to riot"
"Why should I pay taxes for people who can't change their diet"
Fatphobic hate and a really gross argument against health care…illustrating something gross about health in general, that BMI is overly applied as a metric for healthy Doctors.
Lol people are getting offended by this song. Even some "conservatives" are mad about. IM NOT PC. https://t.co/Wx2HHHpMN8

— ALBUMS OUT NOW (@RealBrysonGray) October 18, 2020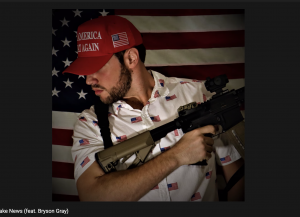 Trump Boogaloo boy as the image to his video.
Jon T. Gilliam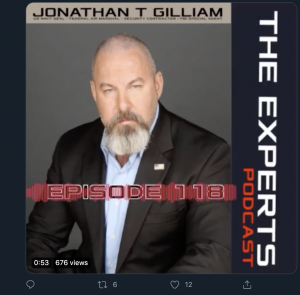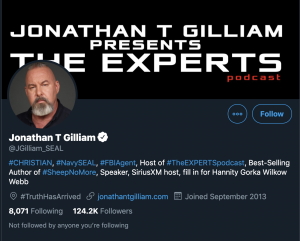 This is the guy who last minute is now MCing the whole event. He is the author of a self-help self-defense series of books called "Sheep No More". According to Amazon, Jon is…
"…a career public servant with over twenty years of service as a Navy SEAL, FBI Special Agent, Federal Air Marshal, private security contractor, police officer, public speaker, and expert media commentator. Gilliam has extensive experience in crisis management, threat analysis and mitigation, small unit leadership, on-scene command, and special events/crisis management"
His most recent book is to help defend yourself by "getting into the mind of the attacker". It is an interesting choice to get a military tactician to host a Jamboree.
John "Cant" Cantazara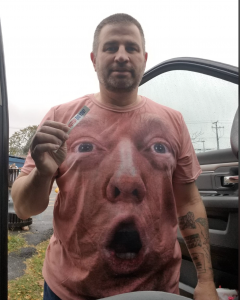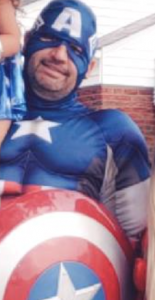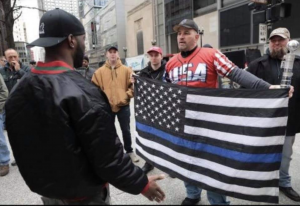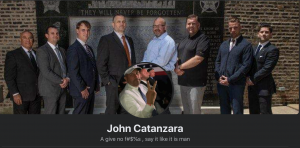 This guy is one Chicago's least favorite pig. He is Super into Trump and wrote a personal letter to Trump begging him to bring in federal officers to help with the protests that have been happening all summer, especially since the Columbus statue getting taken down(we got more on him and that whole saga here).
About this event…John is still scheduled to speak, but he has an exposure risk to COVID and may have actually gotten people infected in the CPD so much that they had to shut down the FOP building for covid exposure. So much can be said about CPD and not wearing masks. John told his buddy Sargis Sangari, who is running for US Representative in the 9th district, in an interview on 'New Paradigms', that he was exposed to covid the previous week while golfing with a buddy who tested positive since then. That weekend, John went to a Trump rally in Janesville, WI, and was "personally saluted" by his #1 favorite person of all time.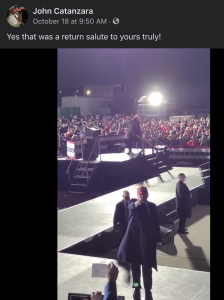 Meanwhile he has been in an entrenched fight with Mayor Lori Lightfoot over the union deal. last we heard on the deal, he rejected all but 5 of the 155 accountability measures on officers that was a stipulation to the new union contract. He pulled a trump and walked out of the room, reportedly.
This is interesting timing to make a hill on accountability when at least 5 of his officers have been suspended relating to failure to follow protocol when arresting former police superintendent Eddie Johnson for being drunk behind the wheel. Eddie also now picked up a lawsuit over sexual assault from one of the very officers in his security detail. What a fucked up story, what a fucked up police department that this fucked up individual represents in his #notaunion.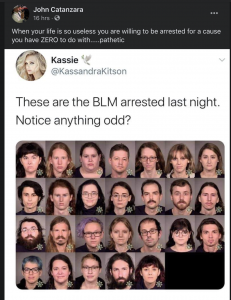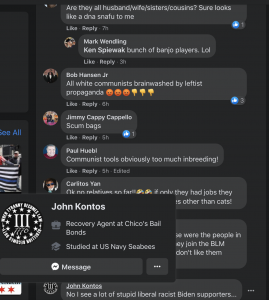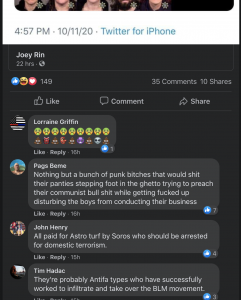 Not yet convinced what a piece of shit John is? Well, lookie here, at where the president of the Chicago FOP  shared mugshots of 26 protesters from his personal facebook for ridicule. Except, his followers are anti-semitic and racist conspiracy theorists that even include a person with a III% Militiamen logo on his facebook. Its not bad enough that hes got a #coparmy at his disposal, he shares information to local Militias with a white supremacy problem.
Ali Akbar aka Ali Alexander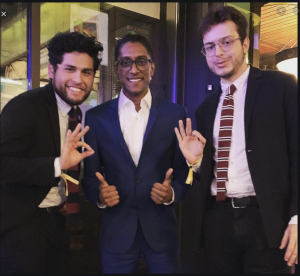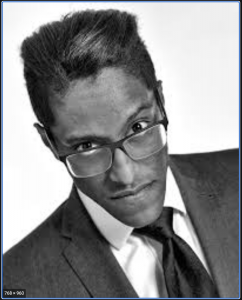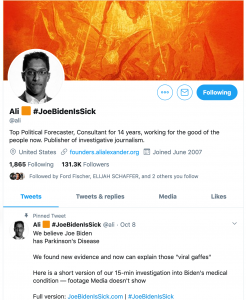 This dude is a Trump Troll and a total fraud in so many ways it is difficult to count. Although he backed out of MCing the GOP Jamboree, we wanna highlight him because he's an interesting liar.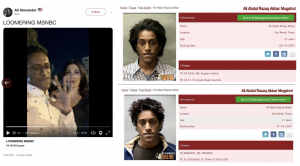 white power hand "OK" gesture with Laura Loomer.
First, he first changed his name to avoid scrutiny for his multiple felonies relating to break ins and credit card fraud. We actually don't care he is a criminal, and we hate putting up mugshots of people up, as it is a disgusting to put people on blast when they are subjected to a brutal police and prison system. But it is truly amusing how so hypocritical it is that the Back the Blue scene would tout so many criminals, yet be about Law and Order, and Ali has harmed so many with his lies that we feel the need to remind people he's a hypocrite.
Most recently, he has spreading fake news with the hastag #JoeBidenIsSick , making videos claiming Biden has Parkinson's disease, which is both false, disrespectful and ablist AF.
We believe Joe Biden
has Parkinson's Disease

We found new evidence and now can explain those "viral gaffes"

Here is a short version of our 15-min investigation into Biden's medical condition — footage Media doesn't show

Full version: https://t.co/RhPrFmQOwX | #JoeBidenIsSick pic.twitter.com/robuY0Ac52

— Ali ???? #JoeBidenIsSick (@ali) October 8, 2020
Ali claims to have single handedly taken down Kamala Harris for President by spreading the vicious birther lie and questioning Kamala's lived experience as a black American.
https://www.buzzfeednews.com/article/craigsilverman/kamala-harris-black-citizenship
Ali in 2018 also claimed to be in the process of building a network and digital text-message database of poll-watchers to "Stop the Steal" of 'fraudulent mail in and absentee ballots"
GOP Operative Says He's Building System to Dispatch Protesters Where Ballots Are Counted
Ali collaborates with other disgraced trolls who are described as "right-wing performance artists" Laura Loomer and Jacob Wohl. The three of them went to Minneapolis a bullshit documentary trying to prove a conspiracy theory that Senator Ilhan Omar had married her own brother. 
On this trip, Ali went with Jacob and Laura to a police station to report what turned out to be a fake death threats from one of his own troll accounts. Jake impersonated a gay latino man who worked as a "diversity coordinator" all for the purposes of appearing repressed by left wing terror – Jacob had bragged that getting banned from twitter "was good for him" because his name started trending.
https://www.advocate.com/news/2019/3/13/trump-booster-jacob-wohl-faked-death-threat-gay-activist-he-concocted
Right Wing Troll Who Spread Mueller Rape Hoax Caught Faking Death Threats Against Himself
But that's not all about Jacob. He also payed women to make false sexual assault allegations against Robert Mueller in order to discredit the man investigating the Trunp-Russia connection. https://www.advocate.com/politics/2018/10/30/robert-mueller-targeted-trump-devotees-sexual-harassment-plot
Both Ali and Jacob has ties to Laura Loomer, who is a proud Islamophobe, and running for congress in Florida 21st district, the one that represents Trump's Mars-O-Lago resort. She gets major campaign contributions from Alex Jones and Roger Stone.
David Clarke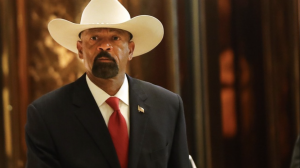 David Clarke is another disgraced and dedicated right wing extremist who served as Sheriff in Milwaukee and assistant secretary of the Department of Homeland Security in the Trump Administration. He has been dubbed the "Black Rush Limbuagh with a badge", and famously likened Black Lives Matter to the KKK. He stepped down as Sheriff of Milwaukee, partially because there was uproar over the 4 deaths he oversaw in the county jail. Since he couldn't hold any position , he is recently taking bids to speak at far-right events, asking organizers $5000 dollars to speak at this GOP Jamboree. He spoke at the last one, they figured it would not be worth it a second time i guess. He is such an extremist even right wing media outlets de-platform him, as he was banned by Fox News and fired by pro Trump Super PAC "America First"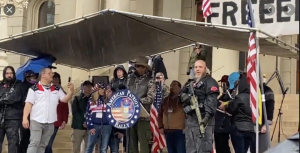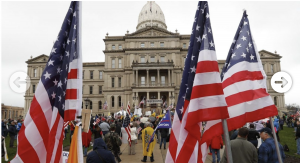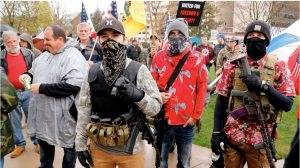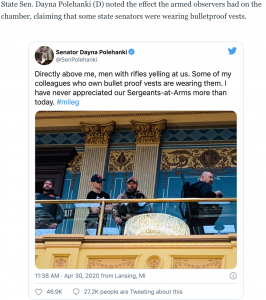 He infamously spoke at an "American Patriot Rally", one of the Michagan anti-lockdown protests, where calls for locking up Governor Whitmer and overthrowing the tyranny of lockdowns were echoed by a crowd of maskless wankers, including armed militiamen and boogaloo boys., many who were standing armed next to him speakin. "Michiganders are being polite for now, but not much longer. My advice to the people of Michigan is to become defiant!",
https://www.thedailybeast.com/trump-world-star-david-clarke-budding-conspiracy-theorist-jason-howland-lead-protest-of-michigans-lockdown?ref=scroll
These 'liberate' MI protests are said to have inspired the Michigan Liberty Militia and the Wolverine Watchment groups who planned on kidnapping and executing MI governor Whitmer.
He was also in on the fradulent ""We Build a Wall Fund". 
Clarke is one of 8 members of the private org who wanted to build that racist wall from private donations, the same org that has seen disgraced former Trump advisor Steve Bannon and also Brian Kolfage charged with fraud for embezzling donations.
Clark has spoken with Bannon at numerous events together to promote the racist "We Build a Wall:" fund
"They're not immigrants — they're trespassers," Clarke told the crowd at a crowded rally in Detroit.
https://www.metrotimes.com/news-hits/archives/2019/03/04/right-wing-radicals-steve-bannon-and-sheriff-clarke-coming-to-warren-for-we-build-the-wall-event
These days he's still peddling his ultra-right wing Law and Order Nationalism at Back the Blue Events, he spoke in some suburb a few months back in fact.
and as for the music group <Milk and Cooks…well, their music sucks, thats all we got on these nobodies…for now