"I have gone to every free kyle rally since the beginning, and will go to every one until the end" – Emily Cahill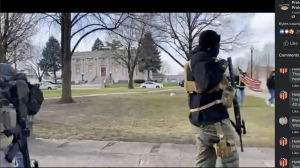 Rittenhouse was extradited to Wisconsin for murder charges last month. But still Illinois gun-nuts went out to Kenosha to stand with armed militia-people outside of the Kenosha County Courthouse, where there was a court-date for this young right-wing vigilante murderer.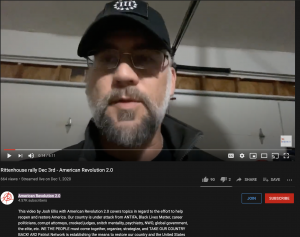 Josh Ellis, seen here sporting a new 3% hat and a rectangle-shaped soul patch, organized a rally on December 3rd to support Kyle for "doing what he shoulda done", adding that "We may all be in his situation soon". Kyle, who is "being politically crucified:" , must be defended because "This is an attack on our civil rights". Josh is an owner and super-administrator for MyMilitia.com, the site where chuds meet online and IRL to oil their guns together.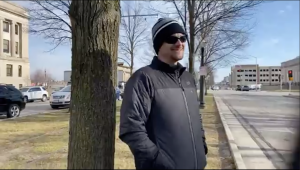 James Anderson of Back the Blue, doing 'security' always lurking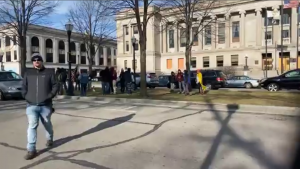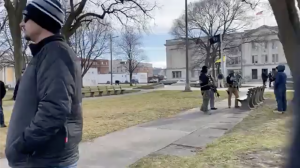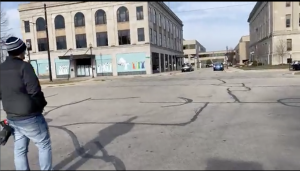 Josh did not livestream on his American Revolution 2.0 youtube channel, , but instead directed people to Em's at Protest the Protester. She went with James from Back the Blue, who acted as he always does, inconspicuously floating around the outskirts of a protest, scanning for the opp, counting the number of would be counter-protesters. In fact, Em and South Paw, who is a representative of Angry Viking, made sure to grab license plates of cars, merely for having Black Lives Matter messaging on the windows. Be wary of the back the blue people, they ALWAYS go for the license plates.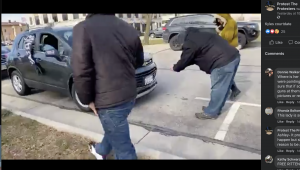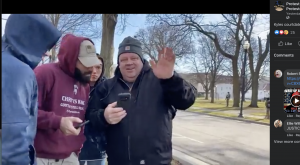 Say hello, Southpaw!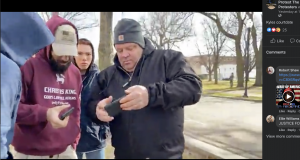 Counterprotesters!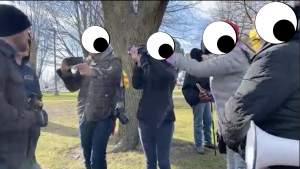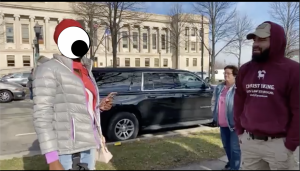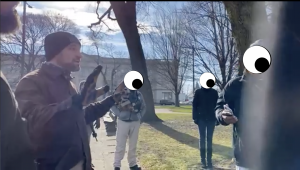 There were quite a few counter-protesters, brave locals from Kenosha who came to tell Josh and his scary gun boys that they do not appreciate their presence, as it is a reminder of the deadly violence caused by Kyle in their city. Many of the blue lifers engaged in discussion with the counter-protesters, and while debate remained civil, judging by conversations it seems a deep rift exists and pain remains from Kyle and his supporters' actions. This was not improved by the presence of a group of fully masked long-gun-peoples hanging with Josh and the crew. Amusingly, Josh at one point felt subjected to reverse racism LOL.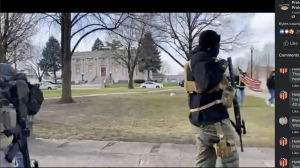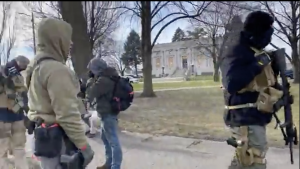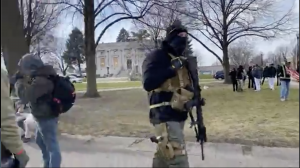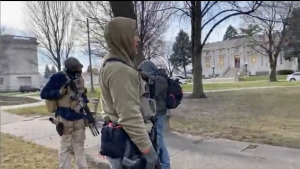 Unfortunately, this Kyle shittenhouse garbage will probably be going on for a long time, as murder cases go. Meanwhile, Kyle is out on a 2 million dollar bond the majority of which was paid for by the MyPillow.com CEO Mike Lindell and loser actor Ricky Scroder.
But these are the people who will ride or die for Rittenhouse. Back the Blue and Militia types, specifically Josh, who is part of the Illinois We The People 3 Percenters Militia, and an open advocate of an upcoming second civil war.
Kyle's next court date is January 5th at the same location, Kenosha County Courthouse. They say they will be back.
Here are some more photos of the chuds who came out for Kyle. Fuck them all.