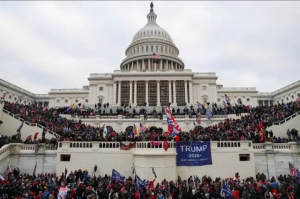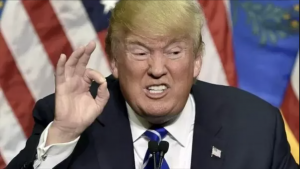 Here you have it, an incomplete list of the Jan 6th Capitol Hill rioters from Chicago and Illinois proper. It is incomplete because the depth of who was involved is still ongoing, and we are expecting more information to come out. If you have any further info on these individuals, or info on other capitol hill rioters, send us an email and please check this airtable made by antifascists to make sure the community is aware of these MAGA insurgents.
Check ID's of known capitol hill rioters here
Submit ID's of capitol hill rioters here
Our email is always open for anonymous tips as well – shieldwallchicago @ cryptolab.net
timestamp 2-21-2020
Kevin Lyons
Kevin on Jan 6th stormed the Capitol and livestreamed from inside Nancy Pelosi's office. On his arrival back home in Jefferson Park, the feds arrested him, initially serving him with misdemeanors, later, felonies.  Per the feds request, this #snitch quickly uploading and turning over to the "Very Nice FBI Lady", copies of his livestreams, essentially ratting out his fellow MAGA rioters, according to CBS here. He was fired from his job, in which he was a union pipefitter. Kevin has been on our radar for a minute; in fact, we used his livestream to identify members of the Proud Boys over the summer, of whom he is friends with and rolled with fairly regularly, check out our report-backs here and here. Kevin also got arrested for starting a fight at a BLM rally one time over the summer. Check out our photo gallery of Kevin Lyons. Check out another article on Kevin's arrest here.
Here are scrapings of Kevin's twitter data.
Followers, Timeline, Favorites, Friends
Check out his affidavit and arrest warrant here!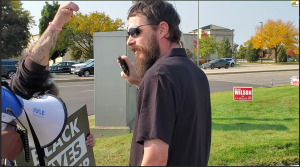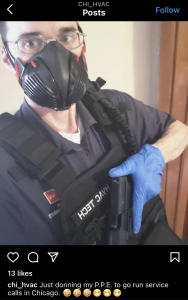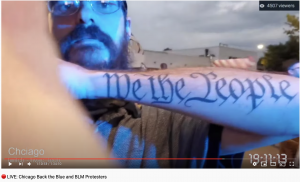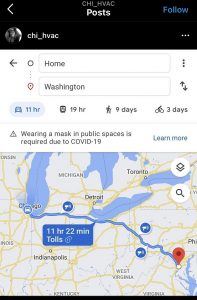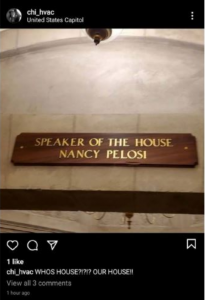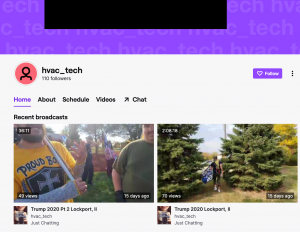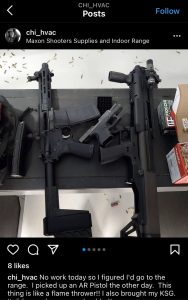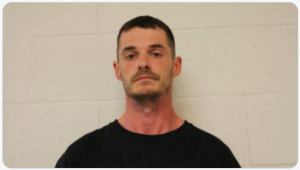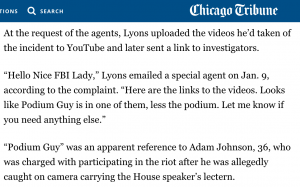 Shannen Gasbarri
Amusingly, Shannen was removed from the plane on the return flight from DC. Also LOL at her facebook posts from that day!! Check out this gallery for some more info on Shannen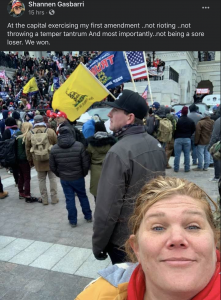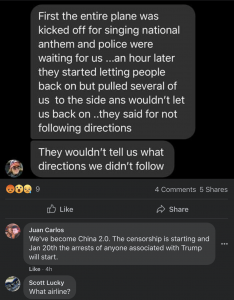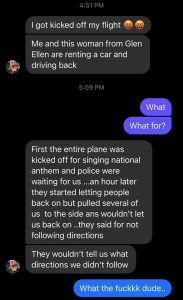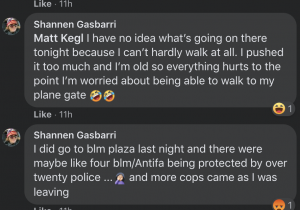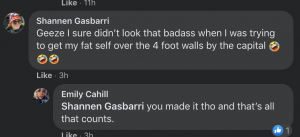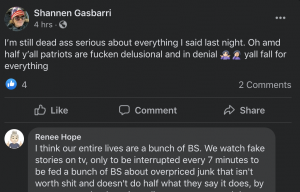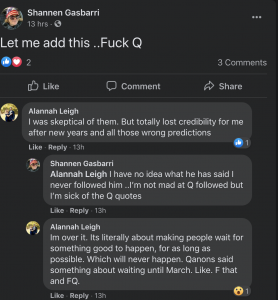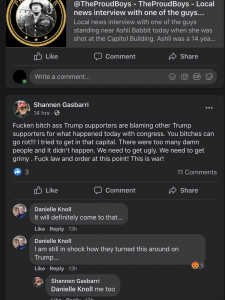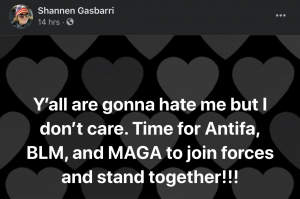 Steve Cassell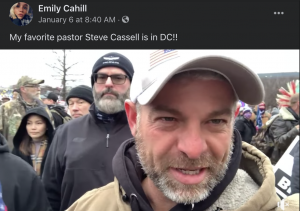 Steve was well loved by Back the Blue organizers Ashley Ramos and Emily Cahill, who invited him to speak at the MAGA Thanksgiving Stop the Steal event 11-26-2020 as well as the Stop the Lockdown Coalition rally on Jan 9th. He was at the capitol riot although we have yet to find him in footage inside the building. He was a guest one time on Ashley's "The Right Questions"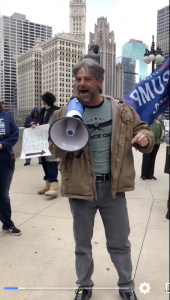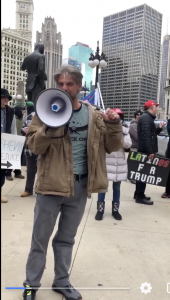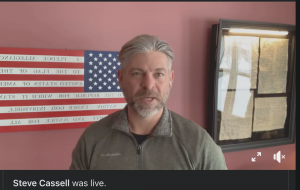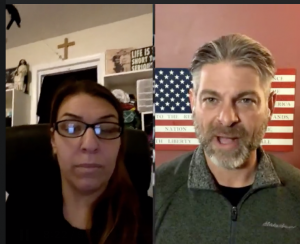 Edgar Delatorre AKA Remy Del Toro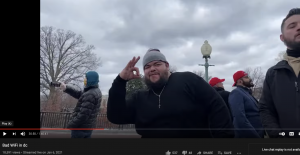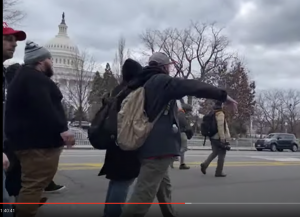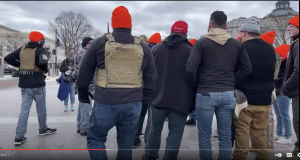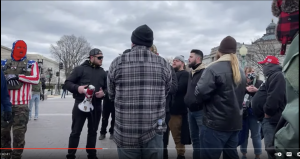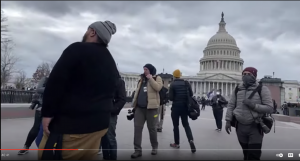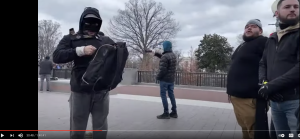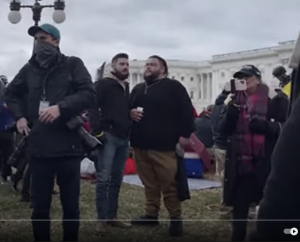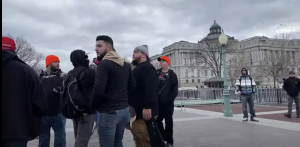 Edgar. Delatorre AKA Remy Del Toro, the leader of the Chicago / Schaumburg Proud Boys could be in big trouble, seeing how as of 2-8-2020, 11 different Proud Boys have been arrested by the feds for participating in the Capitol Hill riots, including the former leader and recently outed as being a "Prolific" snitch, Enrique Tarrio (read about all that here). In these photos, Remy is walking along another as-of-yet unidentified Schaumburg Proud Boy, standing next to Remy in the last two photos. While nobody has yet seen Remy inside the capitol itself, he definitely was marching with the crew, dressed 'incognito' in Chud Bloc, all around the capitol, where many proud boys split off and entered the capitol. Remy has been to every DC MAGA superspreader rally, including Nov 14th and Dec 12,  marching with other proud boys who drunkenly engaged in street violence against locals and Black Lives Matter activists.  Find out more about Remy and his crew of piss boys at our photo gallery here.
Space Cowboy AKA #AllBlackBabyThor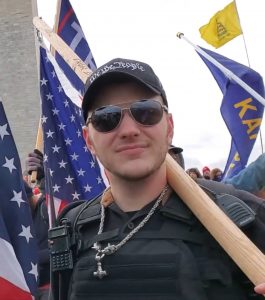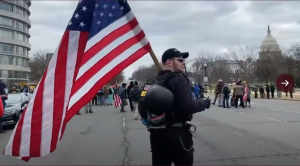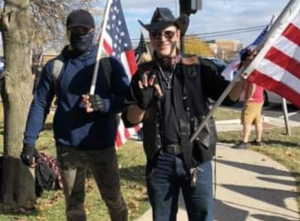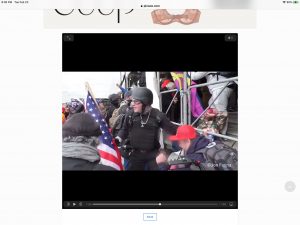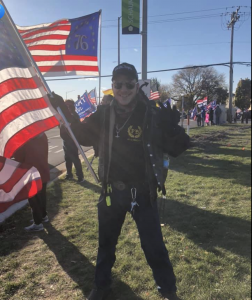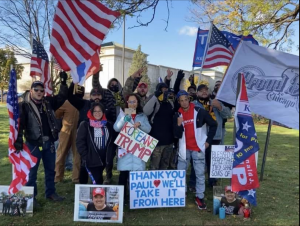 This Schaumburg Proud Boy's name has yet to be identified. But it is known that he rolls with Remy del Toro at various rallies, most especially at the rolling Schaumburg Golf and Meechem rallies until the very end, more on those here.
In DC, "Space Cowboy" came loaded for bear with a plate carrier, a flagpole with "We the People / Melon Labe" with engraved runes, a radio communicator, mace, and the Thor's hammer necklace we used to identify him (this is a symbol appropriated by white nationalists). But he also wore a helmet purchased at fellow Schaumburg Proud Boy "Gun Show" Greg Tanacea's at his website 2AGunshow.com. Meaning, Gunshow Greg is complicit as well in the DC riots by supplying equipment to members of the violent fascists Proud Boys, in which he himself is also a member, more on him here.
Stay tuned for more info on this soon to be identified loser right wing coup piss boy, but check out our photo gallery of him here and these videos here at 23:09, here at 1:54, here the whole time, and here as well.
Libby McCarten Andrews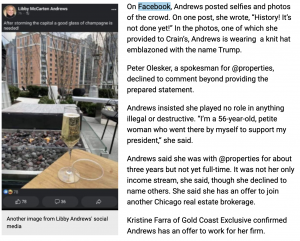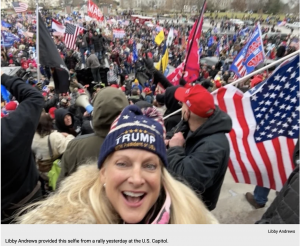 Libby, a real estate agent who worked for @properties, was fired for the storming of the capitol, read about it here.
Brad Rukstales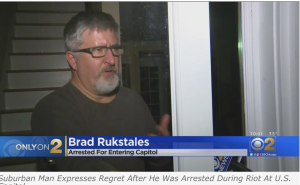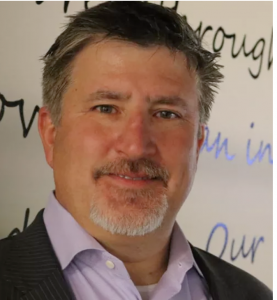 Brad was the CEO of Schaumburg based company Cogensia.  They fired his ass, read this article on it. Rioting CEO's, holy shit.
Matthew Capsel AKA "Mateo Q Capsel"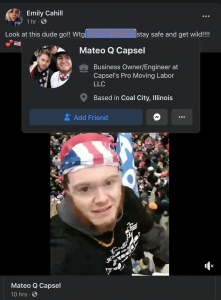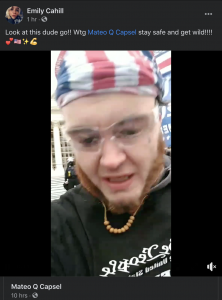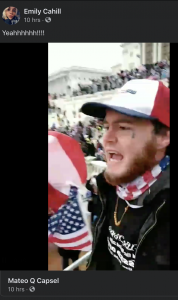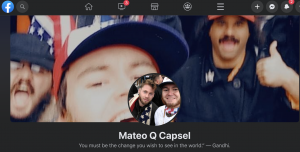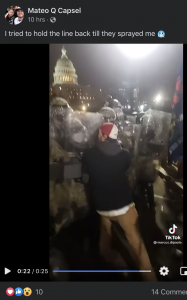 This guy is quite a cringy QANON MAGA possible PB Capitol Hill Insurgent. He put himself storming the capitol on his Tik Tok. You HAVE to check out this photo gallery we made of him right here. He got his ass arrested, read about it here, here, and here.
Cornell Overbeeke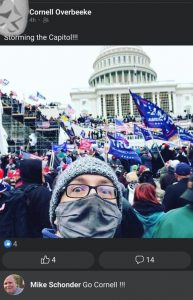 This fascist radiologist from Wheaton posted "Storming the Capitol!" As he was storming the capitol. This highly accredited doctor got his ass fired for being part of the trump coup. He is also a self-proclaimed member of the white-nationalist scourge, Patriot Front, more on him here.
Insight Tattoo – Bob Jones, Cory Kruger, Johnny McDevitt, and Matt Mereno.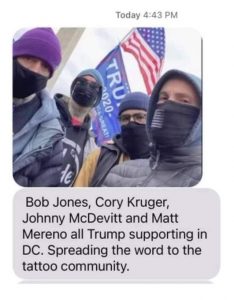 Chicago tattoo shop owners and employees from Insight Tattoo on Milwaukee and Noble participated in the storming of the capitol. Read about them here and here.
Jorge Rios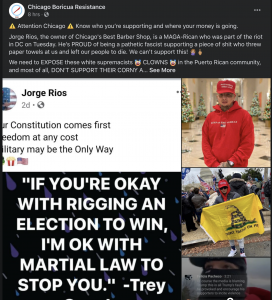 Owner of "Chicago's Best Barbershop". You gotta find and check out his embarrassing apology video.
Louis Capriotti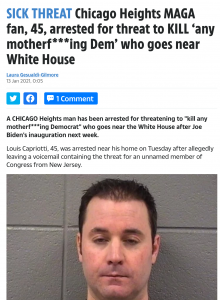 Louis Capriotti of Chicago Heights. He called Congress for weeks before the Jan 6th riots, yelling and leaving threatening messages. Read about him here.
Christian Kulas, Lake Forest, IL.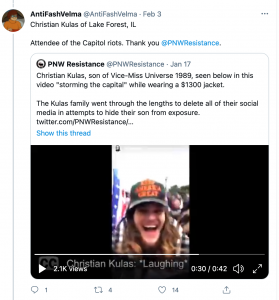 Shannon DeLuca AKA ChicagoRN AKA 2ANurse,
S. Gabrielle AKA "Pepe's Girl"
"Miss Pizzle"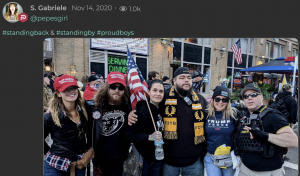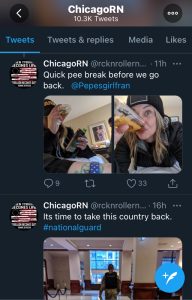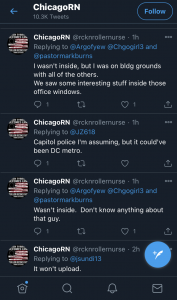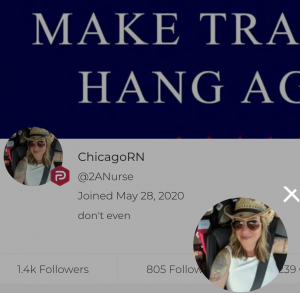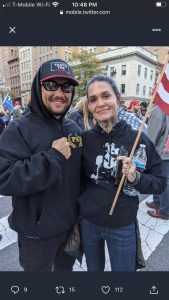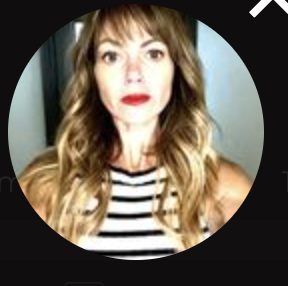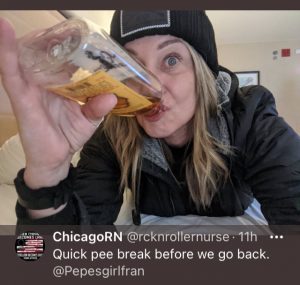 These three Proud Boy Peripherals have traveled together to DC to march with Proud Boys multiple times, including on Jan 6th when they were at the Stop The Steal rally. Here, Shannon DeLuca AKA ChicagoRN mentions she was "at the capitol" but did not make it inside. Check out more info on them here here and here.
Jason and Christina Gerding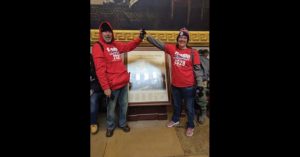 This MAGA QANON couple from Quincy took pics inside the capitol in which they stormed. Read about their arrest here and here and here.
David Fitzgerald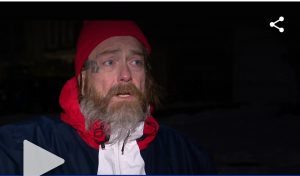 David of Roselle, tattoo artist at —– of Roselle. Of the riot, he says "he regrets nothing" and it was "So much crazier then you know.". Read about his arrest here. and here and here.
Jamison Starks, Samantha Starks, Sebastian Starks
Why not take the whole family to a fascist coup? Why not livestream it ? Along with family friends Rebeca and TJ Cottam?
Read about them here and here, see their livestream here.
Rebeca Cottam, and TJ Cottam
Family friends of the Starks, they also attended the DC Jan6 riot.
Robert Cruz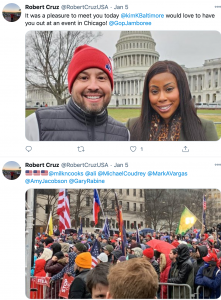 We know Robert was in DC on Jan 5th – but he deleted content on Jan 6th. Keep an eye out for him in all the videos, its pretty clear from his statements he attended the trump rally on the 6th.
Nahraine Jonie AKA Jonie Maine

Nahraine AKA Jonie is the admin of "Got Your 6 Chicagoland", a facebook group hotbed of chicagoland area MAGA BS. She also was at January 6th, but it is unclear whether she stormed the capitol building itself.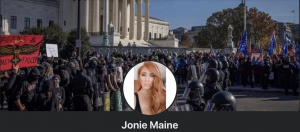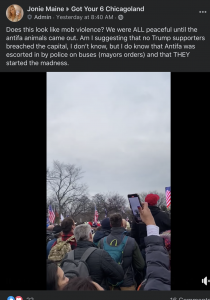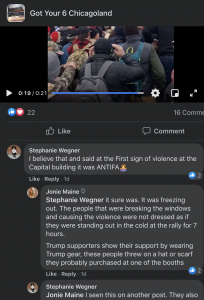 Thien Ly
Read about this Chicago restaurant owner who stormed the capitol here.
Josh Ellis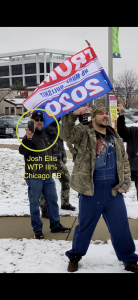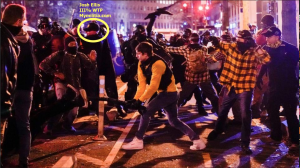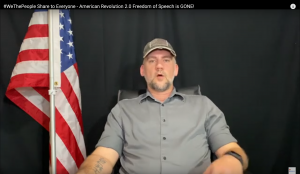 Josh Ellis of the WTP III% also divulged to us he was in DC on the 6th, but has not made a peep since and no photos have been seen of him. (these are stock photos) Keep a look out for his face when you are going through the videos. He was at DC 12-12-2020 fighting activists alongside the Proud Boys, of which he is an honorary member. Check out our photo gallery on Josh here.
The New York Times did a nationwide breakdown on the Capitol Hill Riot arrestees from February 4th here.