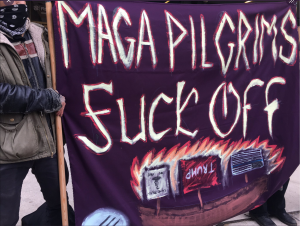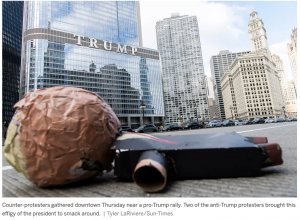 The weather was perfect for the ruin if the MAGA Pilgrims Parade on their colonizer holiday. Anti-fascists in Chicago and beyond have been documenting and confronting these suburban 'organizers' of this Stop The Steal MAGA Fuckstaking rally all year – and when they announced they would come downtown and join with Ali Alexander, the alt-right Infowars grifter and Roger Stone GOP shamster, we knew we would have a blast chasing their asses out of the city and taunting them all the way. And we did; they were embarrassed, demoralized, and have expressed calling it quits on future organizing.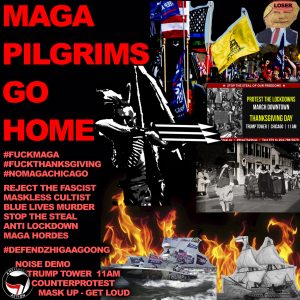 This is reportback on the counterprotest noise demo itself, a brief recap of what happened, as well as an analysis of what has worked and what has not in our ongoing efforts to expose, disrupt, and confront MAGA fascism and the Trump coup. More info on the disgusting coalition Stop the Steal and Back the Blue Events who organized this atrocity can be found in this article here. In short, they are a crew that have run with #PissBoys, fascist gun nuts, and local militia members all year, and they have consistently rallied to support the police and their idol, Kyle Rittenhouse.
The fash set their rally at the Trump Tower, which is on the north side of the river, usually blocked off by cops or by Mayor Lightfoot raising the bridges during protests, to keep people away from Trump Tower and the Mag Mile, to block people off from entering the loop, and to kettle protests when they are in it. The effect is a gated community for rich people in their bourgeois enclaves, to protect yuppies from protesters and to divert peoples rage during the George Floyd uprising to the neighborhoods, instead of the downtown seats of power and capital.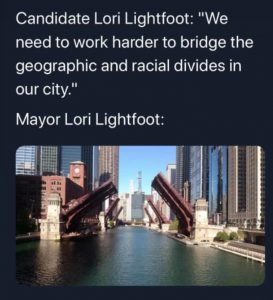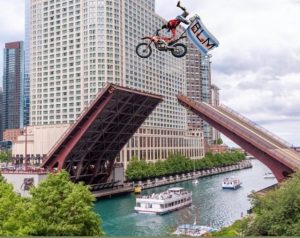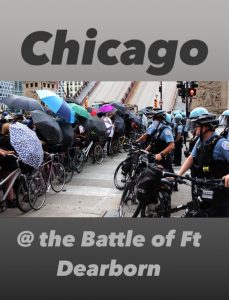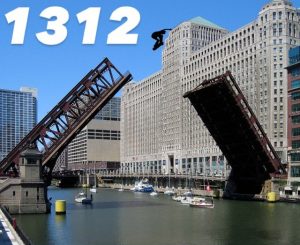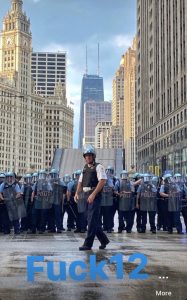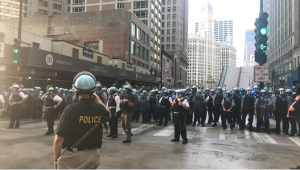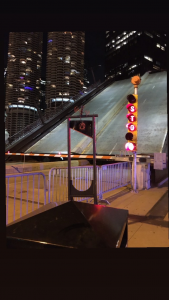 But she did not raise the bridges on this day, and must have instead prayed that no serious shit happened. And nothing did, the crowds were largely kept apart by the police, who always have large number at chicago protests. The city was largely a ghost town cuz of the colonizer holiday, but within several blocks getting close to Trump Tower, we seen tons of cops stationed here and there blocks away from the protest location, staring down all the protesters who would deny them time with their families LOL. It warms our hearts knowing we ruined the pigs's precious holiday. But the downtown emptiness meant that there was no avoiding being seen and photoed by the fash, and the standard-issue overabundance of the pigs meant that counter-protesters would have a hard time getting away with anything too fun…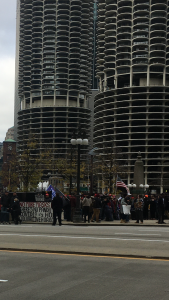 The trumpiesdid not actually meet at Trump Tower, but instead at the more visible location on Wacker across the river, in the shadow of the disgusting phallus, a popular site for people to take middle finger selfies. Counterprotesters started gathering on the opposite side of the street and started busting out the pots and pans and cowbells and blasted all the versions of Fuck Donald Trump from a Fuck MAGA playlist specially curated for this event. The RCPers in Refuse Fascism showed up, as they do, which added to the numbers, which were equal to the MAGA fucks.
Here we see Ali meet and embrace with the #1 of Chicago Piss Boys, Edgar 'Remy del Toro' Gonzalez. Were Proud Boys acting as security for Stop the Steal? They sure acted like it. Remy was the only one to sport #pissboy paraphanelia.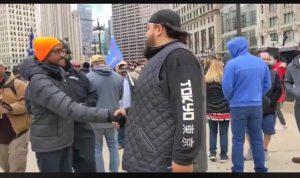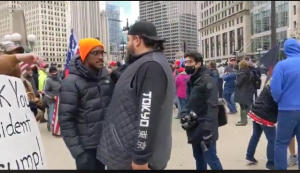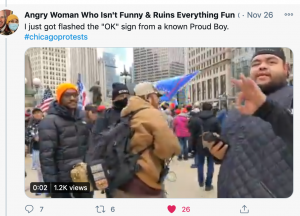 Wacker is a big street, so at first the counter-protest was too far to disrupt their event, and it felt we got stuck in an ineffectual 'free-speech' zone. But that would change…
When they started marching towards Grant Park, towards the Christmas Tree and Pritzker Pavilion in Grant Park which was their goal, we were hot on their heels. MAGA only took the streets for a brief second whilst we were denied by the pigs, and remained on the opposite sidewalk on Michagan Ave. Bike Cops tried blocking our movements and slowing us down but we were too quick: we walked around and followed them right into the park. There, the fascists made their literal hill, and this is where the pigs prevented us from overtaking them, so we remained at the bottom of a stairway. But we were close enough to drown them the fuck out. They were too busy looking over their shoulders and distracted by our tauntings that they couldn't even hear their stupid trumpet player, playing patriotic music from sheet music, the hack. Here is where Remy and some wannabe pissboy chuds stared us down, acting as 'security'.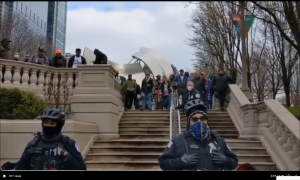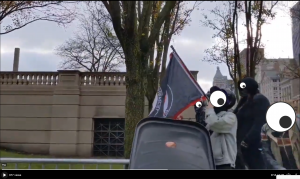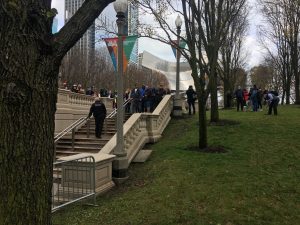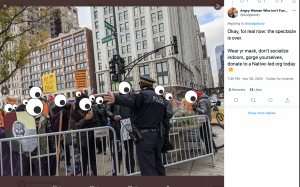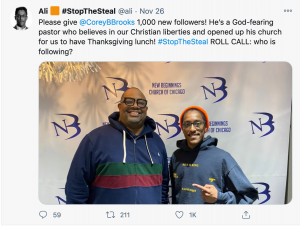 Their crowd at the top began thinning and sneaking out the side exit of the park. We believed Ali had also left to feast with Pastor Corey Brooks as he had planned at a nearby church, so we tried to cut them off back at Michigan and Randolph, but nobody was around. So we kept going back to the tower and staked them out back at the beginning, on Wacker. Soon, they came back around we taunted them for a second time while they packed up, trying to match our loudness by playing fucking Bryson Gray, the MAGA rapper and fellow #grifter.
Their chants were boring "USA, USA, USA" "Stop The Steal" "Arrest Joe Biden". No hot cocoa as they promised their guests, no food either. They cannot dance or lead anything musical, as they failed to rile up the crowd with that T R U M P version of YMCA seen here , and they are horrid fucking dancers as evidenced right here.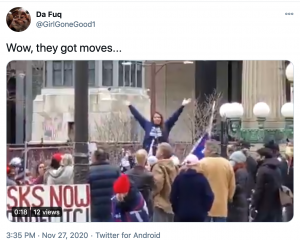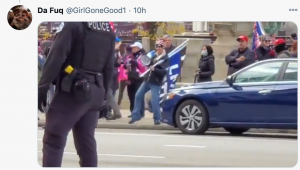 Hilariously they tried singing "we are the champions' which only gave the  counter more fuel. 'No time for MAGA, cuz they are the losers'. Other chants on antifa side:
"Fuck Trump, Fuck Biden too,
They don't give a fuck about you"
"MAGA, Go Home"
"Maga Pilgrims, Fuck Off"
"Stop The Grift"
"Fuck Kyle Rittenhouse"
"Fuck Proud Boys"
and my personal favorite, "Emily Cahill's a Nazi" (referring to the organizer who regularly posts alt right shit)
In the end, the crowd managed to disrupt and bother the fascists to the point they were both visibly uncomfortable and had barely a moment where they were not within earshot of our tauntings. They were mad that we were so loud, and so close to them, unafraid of their unbelievably cringe conspiracy theory movement. This is the effect we want. And afterwards, organizers Ashley Ramos and Emily Cahill cry on a livestream exclaiming that they are not going to be doing any more organizing, at least for a while.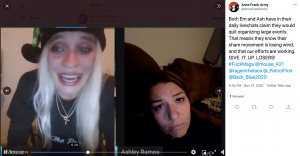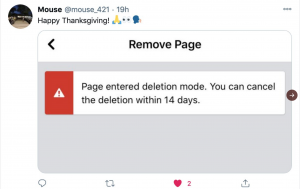 It would have been easy to ignore them, as we all could have been home cooking, watching home alone home alone (no shame), but over 50 peoples showed up to let MAGA know that they will never feel comfortable with their fascist bullshit in our city. Listen, liberals! You cannot ignore them, if we do, their movement will grow. Never  let them take the streets!
We were surprised they had so many numbers at all, as probably the great majority of them came from the suburbs. But this is Chicago, this is a No MAGA zone.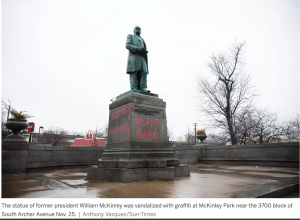 Elsewhere in Zhicaagoong, anti-colonizer activists decorated and attempted to take down a statue of William McKinley.
We were also please to know that all over the so called United States, people raised all kinds of hell against the colonizer celebration of genocide and conquest. Racist statues were toppled in Portland, toppled and defaced in Minneapolis, marches were held in occupied Wampanoag land in so called  Plymouth, Massachusetts, and also in so-called Canada, banners dropped in solidarity with Diné indigenous political prisoner, Loren Reed.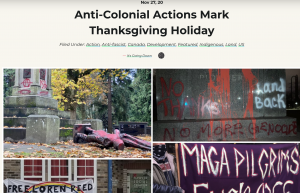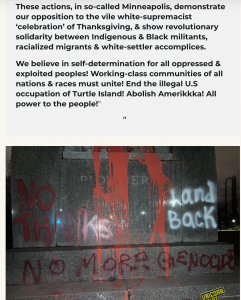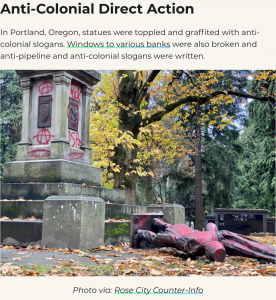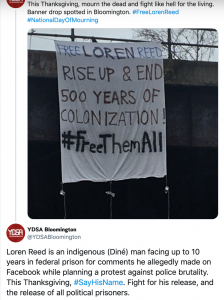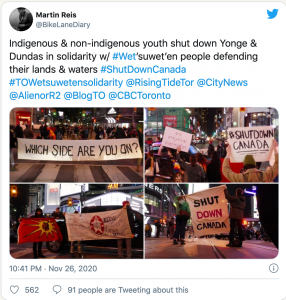 We also followed up with this guy who had this sign with the MAGA Pilgrims. Who would've guessed this covid conspiracy nut would have hosted a deeply anti-Semitic website. Of course nobody called him out on his bullshit from their side. CW anti-Semitic racism .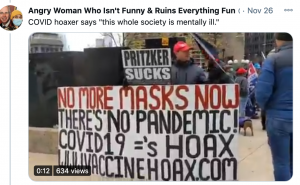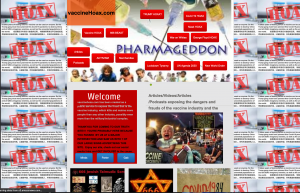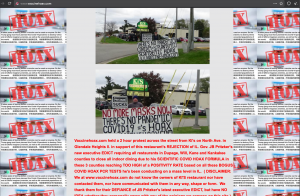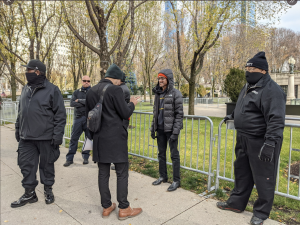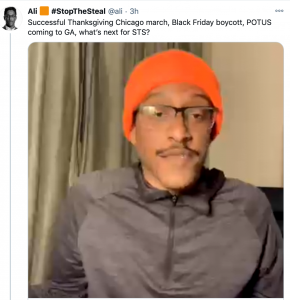 Ali Alexander overdressed for the weather and well-protected for his grifty astro-fash coup. Hilariously he later goes live saying that he believes the counter protesters to have been paid, when he personally was probably the only person paid to be there, besides his security. Usually these BTB types sell shirts, as is their business(or are they a non-profit now…?), but they must not have even seen it as a prudent investment to be making more trump shit, now that his 'chances' continually look grimmer and grimmer. In this same video, Ali offers to tell anyone who pays him 1000$ his electoral plan for victory, something he does not have time to do for free. This sounds like the grift of Carl Arriaza, the nut who has been threatening protesters both online and IRL, more on this fuck and his fascist gun group IGOT here.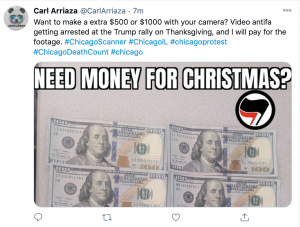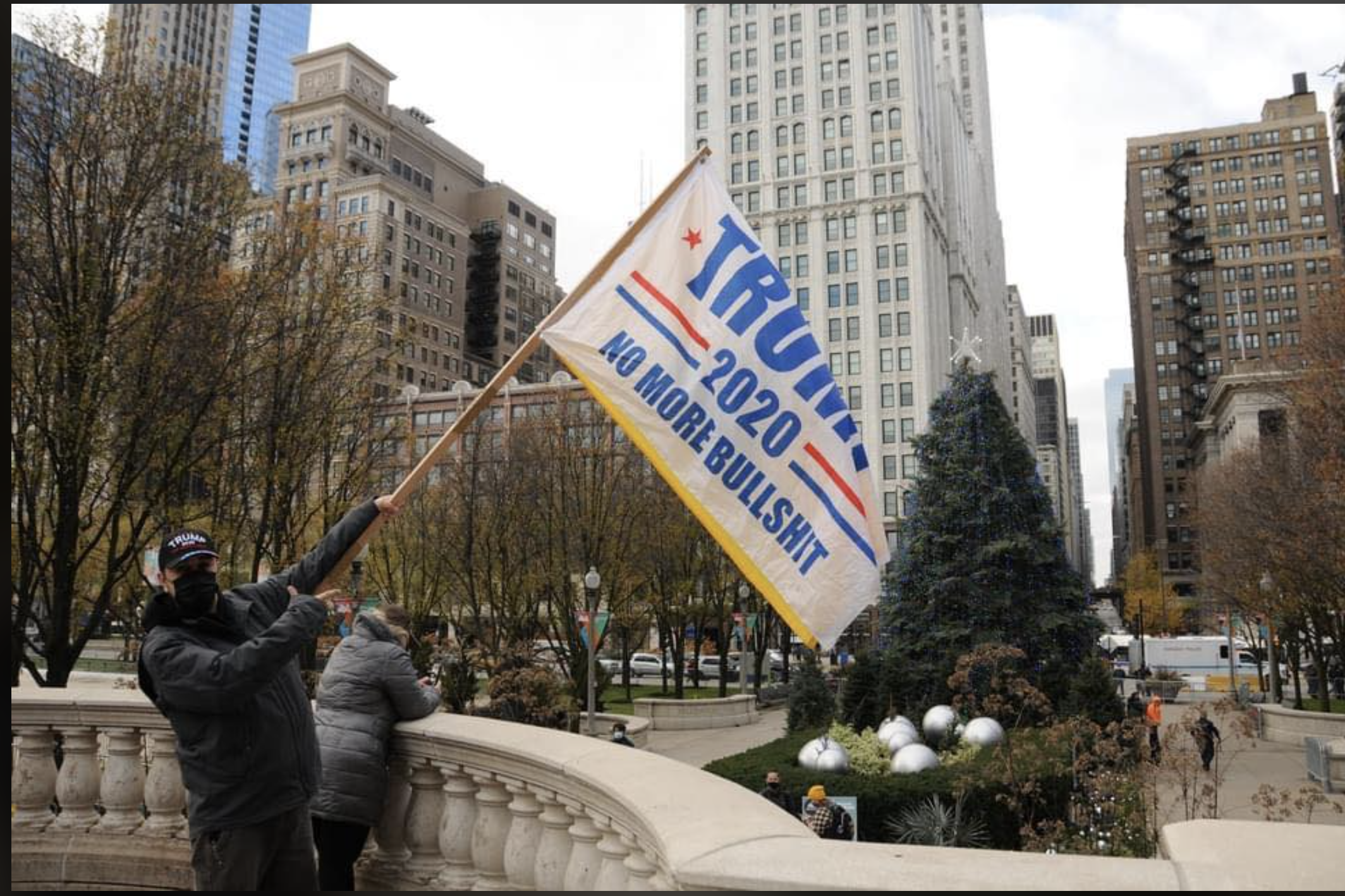 Also present at the rally was Jon Alexander AKA Jon Argumedo – He is a well known white supremacist who has been involved in violent neo-nazi organizations for about 10 years. more info on him here.
That's all for now. Solidarity Forever!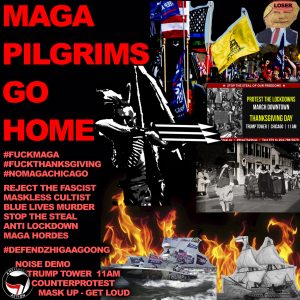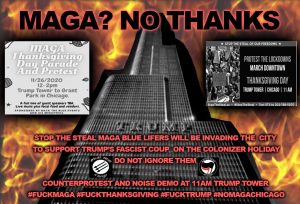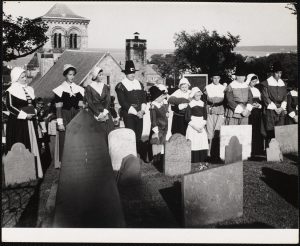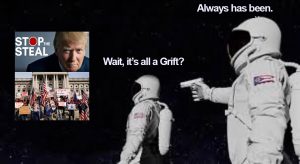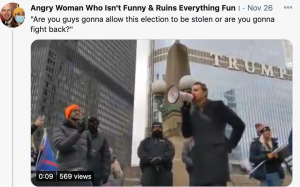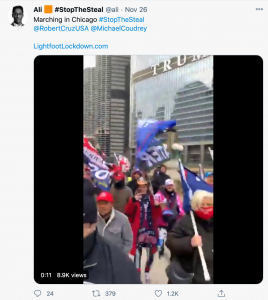 Did you know there was internal division within their fucked up coalition? Ali was shittalking on Em Cahill all week before their MAGA fucksgiving march? We live for this discord