Back the Blue at Homan Square Black Site
reportback and reflections on the surge of Chicago Police over the weekend of August 15th
Also a further doxxing of who's who of Back the Blue, scroll down halfway.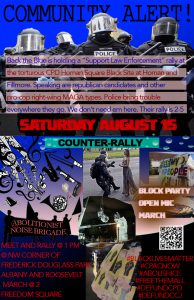 Flyer for the Abolitionist Noise Brigade block party/counter-rally
Again a tumultuous Chicago weekend – preceded by the shooting of another black youth, Latrell Allen, who survived but was charged with attempted murder, again prompted a wave of righteous loot-backs on the Mag Mile, the Gold Coast, and other cesspools of bourgeois bullshit. Black Lives Matter Chicago organized a jail support at the 18th st copshop for those arrested taking reparations from the downtown corporations.

Mayor Lightfoot and Police Superintendent Brown again showing their prioritization of property over people, threatened the city with an additional thousand cops on duty, on 12 hour shifts with no days off (damn it must suck to be a bootlicker for the state). Again they raised the medieval-esque bridges in an effective gated community, sundown town type of way. Again with the curfews and the CTA interruptions. And indeed cops were everywhere you looked this weekend. 
However that did not stop Chicagoans, full of rage against the Law and Order moves the City had been making since the uprising began. Multiple #DEFUNDTHEPOLICE protests were organized for Saturday, one organized by Tikkun Chai / Chicago Activist Coalition, where they claimed to have some sort of permission from the city to shut down the Dan Ryan, but then were refused by CPD at the onramp anyway. Rabbi Michael Ben Yosef, who heads Tikkun Chai, in a press conference after had an existential crisis about how the city halted thgeir planned protest, about how he went about doing it the 'right' way, and not wanting to do it the 'wrong' way. In our opinion, they could have just taken the highway, it's just sitting there. Also interesting is that a 'community patrol' called Original Men in Black confronted Rabbi Yosef and accused them of 'shaking the trees' and then leaving the neighborhood to the mercys of an agitated, often violent police. This is similar to what happened on Tuesday, where a rally was organized in Englewood by a large coalition of BLM protest groups met by some community members who clashed with protesters, calling them outside agitators, in what Block Club Chicago called a 'generational divide'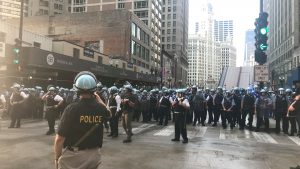 But the protest which started at the Bean downtown turned into another messy battle with the police with dozens of arrests, cops armed with batons and shields, mace and tear gas(denied by cops), vs the protesters with skateboards and umbrellas. The pigs say it was the skateboard which set it off, but they only release the footage they want to tell the narrative they want, in whatever time sequence they choose, further illustrating why we need CPAC. Again, cops brutalized and kettled protesters again in an unprecedented way, with arrests totaling 24. THEN, the next day they began doxxing protesters they arrested, posting photos, short descriptions of their charges, and even the blocks they live on, which were circulated on various back the blue forums. CPD's facebook exploded with thousands of comments in hours, bootlickers talking shit and threatening violence on the individuals arrested.

Unfortunately, some activist groups also joined in with the doxxing. The community group Mi Hogar has been spreading the same videos CPD has on FB, identifying protesters downtown who may or may not have hit a fucking cop with a skateboard or some mace. These types of actions are extremely harmful to the movement, as it is chilling and discourages people from wanting to get involved in the protests. They also in a very real way potentially put protesters in danger of being arrested, as Superintendent Brown said on Monday morning that they have arrested 11 people allegedley 'involved in the looting' solely on information ascertained by people posting on social media. As praxis, DO NOT SHARE INCRIMINATING VIDEOS OR PICTURES ON SOCIAL MEDIA EVER, as law enforcement has teams of people scrubbing facebook to gather information about protesters and rallies.
On the other side of town, the rally organised by Back the Blue Events at the Homan Square Black Site was a real boring affair in comparison….until the band showed up. All week, as the pot boiled between protesters and cops, people and property, Back the Blue events said not a damn thing on their FB. They decided to go ahead and post up at Freedom Square, opposite the Homan Square Black Site, to do a 'support law enforcement' rally, which was attended by practically nobody, totalling about 20-25 people at its height. It was like an unpromoted DIY show, just band members and their partners, except the bands are asshole republican politicians and nobody's getting laid. There was, of course, the legion of over a hundred cops sweating on the street, full riot gear, awaiting the arrival of the Abolitionist Noise Brigade, who organized a block party and a march that began at the recently renamed Frederick Douglass Park. The cops made a mistake in letting the band take the intersection when they noisely arrived, because their playing and chanting completely drowning out their stupid rally until they packed up and left after only holding the square till 3 (they planned till 5)
As they trickled out (remember they only had just a few suckers who attended), one member of the counter-rally attempted to burn a blue lifer flag, but was ambushed by a line of cops, who then pushed the entire band back and used batons to knock people to the floor. The scuffle only lasted a moment, as the band clearly did not incite violence, being outnumbered about 10-1 by cops, but the band suffered a few minor injuries at the hands of the police, one of which prompted a protester to later get examined at a hospital and is recovering with pain medication. Thanks to medics on scene, as well as NLG, fortunately there were no arrests. The counter-rally regrouped on the sidewalk and were ordered to march the opposite direction in which they came, all the way down Homan to Chicago ave, but the band demanded the sidewalk to march back to Douglass, and the cops capitulated. The band met back up with the crew who held down the Block Party, and tales were told over BBQ and bottles of water about the laughfest that was the Back the Blue rally that day.
Many members of the community had joined us to see what the gathering was all about, and many good conversations were had about how to practically defund the police while ensuring public safety – the real questions that we should be discussing, not about whether skateboards should be met with batons, teargas and mass arrests. Also, a group of youth stopped by to talk about the ongoing grassroot efforts which has successfully urged the Chicago Park District to rename the park, which was originally named after a slaveholder, and change it to Frederick & Anna Douglass Park, after the famous abolitionist and orator.

It was an extremely poor choice for Back the Blue to even host a rally at the Homan Square Black Site. As we've mentioned before, the CPD operated building, situated in a black neighborhood, has been the site of a great number of heinous, illegal, and even torturous practices, which prompted Black activists and revolutionaries to occupy the opposing lot as Freedom Square, a liberated space in opposition to police corruption and brutality and for rights and dignity. In fact, a coalition of BIPOC groups organized a huge rally on the 4 year anniversary just a few weeks prior to this event. So again, just as they did at the ex-Columbus statue, Back the Blue is haunting the sites where protests are happening in order to spread their hateful racist messages, dog whistled poorly as the Blue Lives Matter movement. For them to go to the West Side and spread their bullshit narratives about law and order over gang violence, tired racist talking points like black on black crime, to demonize protesters and condemn poor communities: it is an insult to the neighborhood and is very much a threat: they support it when police use violence on the people, every time. And they do not shy at all away from getting aggressive to the neighborhoods they enter: last time they gathered in Grant Park on July 25th, they made the first move and punched a counter protester. But they definitely did not have that kind of numbers or strength for that kind of shit this time, although they had hundreds of cops on their side, there were more of us than there were of the loser ass blue lifers, and they left in disgrace, their rally ruined by the revelry of the noise brigade.


Since the cops and bootlickers are doxxin protesters, let's look at the ugly maskless mugs of the sad sacks who went to the Back the Blue event at Homan. Fuck 12.
More lovely photos of the BTB folk are on a dossier we did from their July 25th event at the ex-columbus statue.
If anyone has any info on the blue lifers – email us at shieldwallchicago -at- cryptolab.net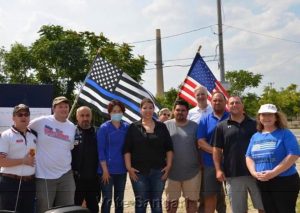 This is like 1/2 of the whole crowd who invaded Freedom Square, the speakers and organizers. (l-r) ???, Tom McCullough, Sargis Sangari, Yesoe Yoon, Ashley Ramos, ???, Jesus Solorio, Mark Curran, Anthony Beckman, Jeff Muehlfelder, Theresa Raborn. UPDATE – every one of these candidates lost in their run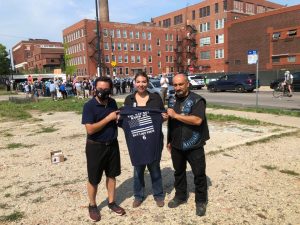 (l-r) ???, Ashley Ramos, Sargis Sangari, posing in front of the Homan Square Black Site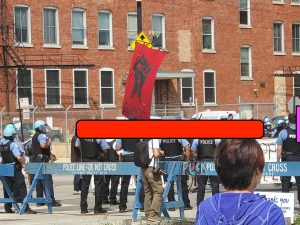 Cops react to a giant banner of a black fist, APOC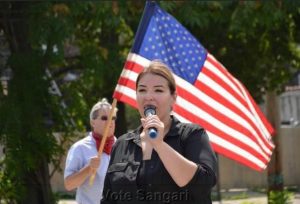 Ashley Chalupa Ramos is the main organizer for the Back the Blue events and runs their facebook.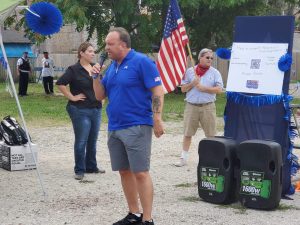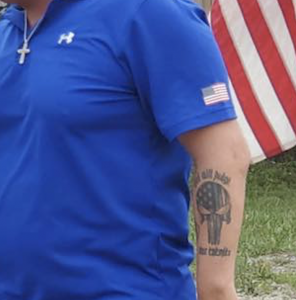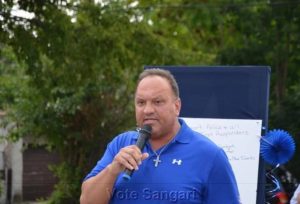 Anthony Beckman is the Republican Committeeman of Norwood Park Township. and is the Illinois 5th Congressional "President Trump Delegate". He claims to be the typical law and order candidate. He was on the Swat Team in Norwood Police. He is such an asshole cop warrior that he has a Blue Line Punisher tattoo on his arm. It is not clear what the words say, but it's probably worse than whatever you're thinking it says. He is on the covid denialist Chinese Communist plot nonsense on his FB.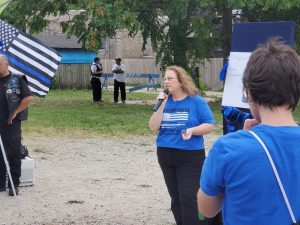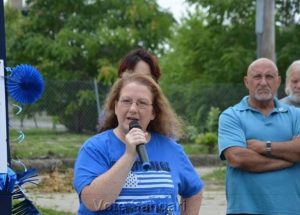 Theresa Raborn is running for U.S. Representative in the Illinois 2nd Congressional District.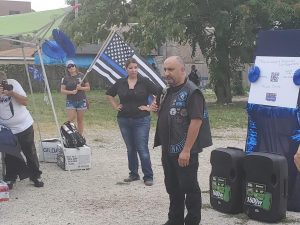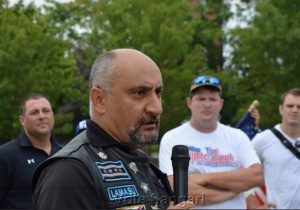 Here we are, speaking is a very disheartened Sargis Sangari with an equally demoralized Ashley Ramos. Sargis at one point brought the PA speakers(pictured being used for speeches) up to the band on the opposite side of the cop line, and looked like he was about to speak or something, but the cops wouldn't let him and helped him move the speakers away haha. Otherwise, he was behind the cop line filming the band, looking mad and bad. He is one of the main supporters of Back the Blue and is running for U.S. House of Representatives in the 9th district, as he lost the primary in 2018. We go into a lot on this guy in our Who's Who of Back the Blue.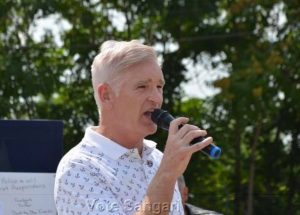 Mark Curran again, looking like a barely painted mannequin. He is running for U.S. Senate to upseat Dick Durbin. Mark took heat recently for criticizing civil rights leader John Lewis in some comments he made at an event, which he defended at the BTB rally at ex-statue last month. He said,
"He might have been instrumental in the fight for civil rights at one time, but John Lewis got in bed with Planned Parenthood and the abortion industry," "Three out of five pregnancies in the African-American community end in abortion. If you want to know why there is violence in the streets of Chicago, why it's the most violent city in America, it's because there's no respect for the sanctity of human life.
"So when you have a quote-unquote 'civil rights leader' saying 'it's okay to kill all these little Black and Hispanic babies in the womb, no big deal, let's make it as easy as possible making these centers in the inner city,' well, you're not much of a civil rights leader," he added.
Fuck this ghost.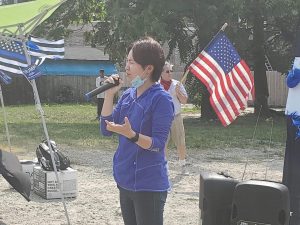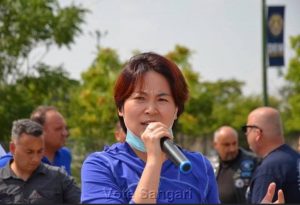 Here is Yesoe Yoon. She is running for Illinois State Representative in the 17th district out of Skokie.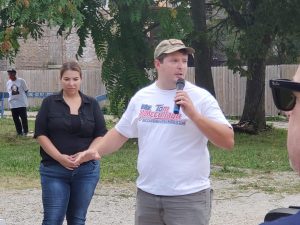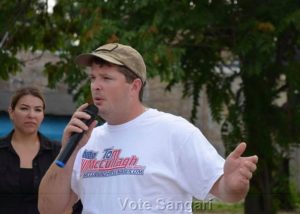 Speaking is Tom McCullough, seen wearing his own band shirt. He is running for State Senate in the 49th District. He is in a few weeks time speaking at an event to celebrate Trumps official nomination of the Republican Party along with greats like Rod Blagojevich and the right wing troll who advocated for his release, for Mark Vargas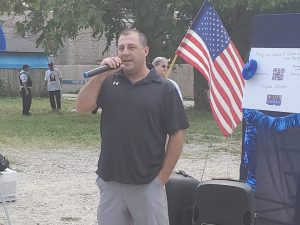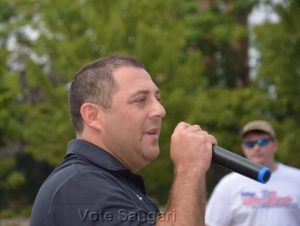 Here is Jeff Muehlfelder, and he is running for State Representative in the 19th district. Here he is saying "Imagine the absurdity of calling the system racist, when the system gave us the black billionaire Jay-Z"
.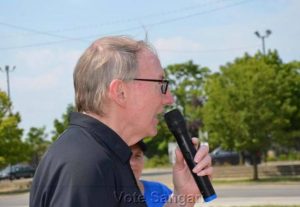 Judge Pat O'Brien did in fact speak, after receiving the most hilarious and pathetic introduction by Jeff Muehlfelder – "Here he is…..mr law and order himself…..He's running against Kim Foxx….Hes going to say a few words, if anyone is still left to listen!!!"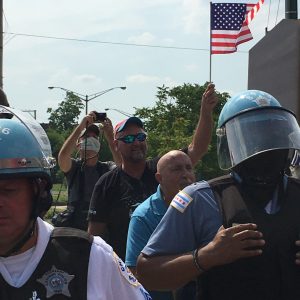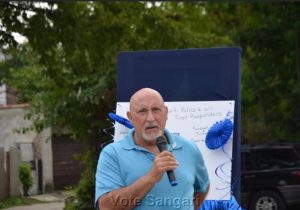 Lets not forget Frank Coconate was there, seen in the light-blue shirt behind the cop. Is this what they mean when they say "we got your six"? to just stand behind the cops? Remember, Frank is very passionate about his love of the ex-colombus statue and almost broke down completely at a press conference last month, decrying the protesters attempt to take it down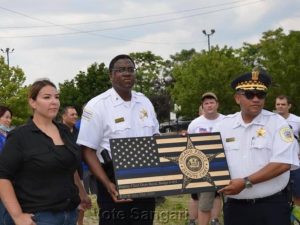 This was a memorial gift Back the Blue offered the commanders at the Homan Square Black Site. A couple weeks ago, a recently promoted black officer was found dead in an apparent suicide, at the very site they held their rally. Dion Boyd had only become Deputy Chief for a month.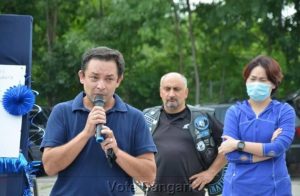 No idea who this guy is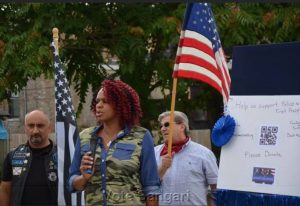 Not sure who this is either.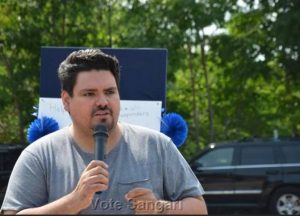 This is Jesus Solario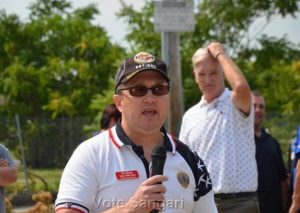 Or this guy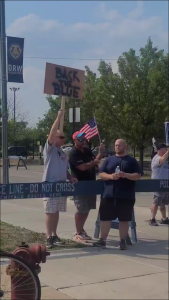 But here we got Richard Poisso back again on the right (check our Who's Who for more on him). He may work for a security company called TRT, or he might just be bragging on his youtube account for cop clout, but either way he has connections to 3-Percenters, who went full armed to Louisville on July 25th to counter-protest the NFAC rally for Breonna Taylor.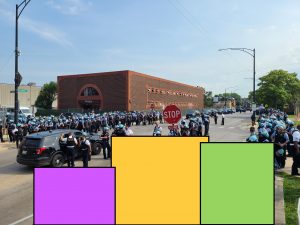 Just so you can see how many cops there were in Homan Square.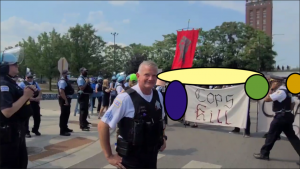 Our banners said "Capitalism Loots", "Cops Kill" and "CPAC NOW"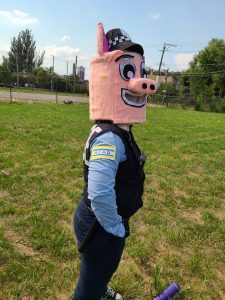 Not pictured is the John Catanzara piñata and the lil baby pig stuffed animal
Back the Blue also had a rally in Naperville the following day. We didn't know about this one as it was not promoted much.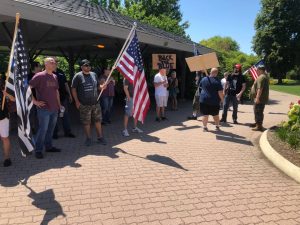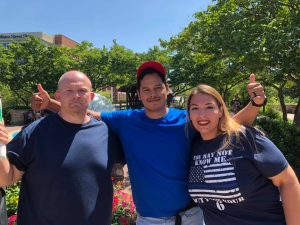 Here we are, Richard Poisso, Jesus Salazar, and Ashley Ramos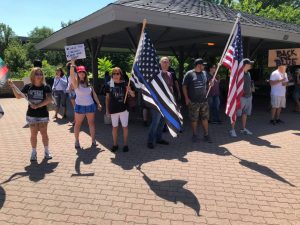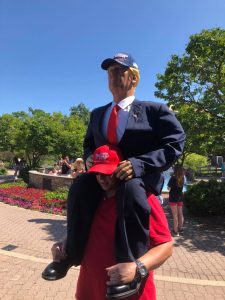 Look at this goddamn clown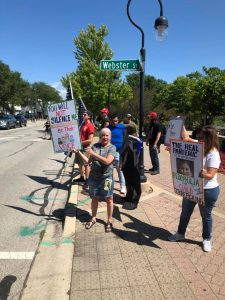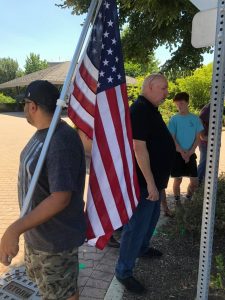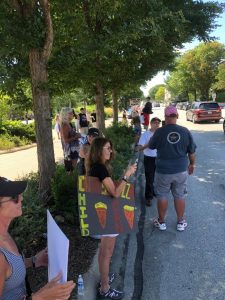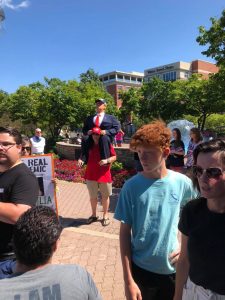 There may have been a rally in Garfield Ridge on Saturday as well, but only two articles about it so far, so it's difficult to verify.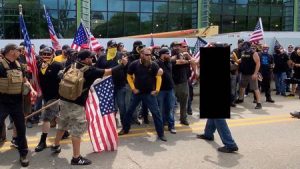 Fascism, was on the move at other places this weekend, like Kalamazoo, where Proud Boys marched around downtown and got ambushed by a counterprotest.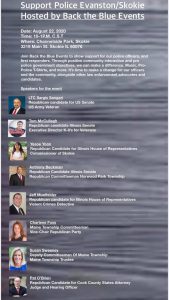 Here is Back the Blue Events next rally- already next week! Hard to believe these fools like doing this for fun. Maybe they are getting paid to do this. Whoever is paying em, the cops or Republicans, they are getting ripped off, because their rally was boring, with no food, with no music, just a bunch of assholes in a neighborhood they demonize, surrounded by cops.
If anyone has any info on the blue lifers – email us at shieldwallchicago -at- cryptolab.net